Kacie and Kobe Wall welcomed Blakely Layne Wall into the world at 5:49 p.m. on Thursday, April 2, 2020 inside Lexington Medical Center.
The COVID-19 pandemic had just begun. Family members weren't able to visit. That's when this powerful image emerged.


Kobe held up newborn Blakely at the window for family anxiously waiting outside while Dr. Elizabeth Lambert, OB/GYN at Carolina Women's Physicians, a Lexington Medical Center physician practice, smiled.
Today, Blakely turns one!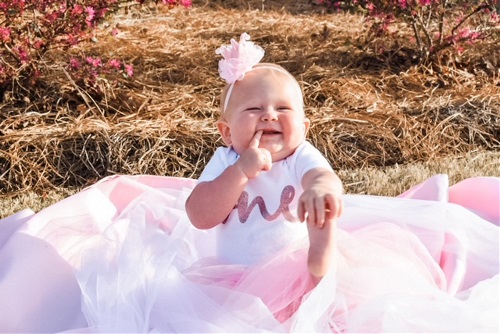 We reached out to Blakely's mom Kacie to catch up on the first year.
Q: What was it like to bring a baby home at the beginning of the COVID-19 pandemic?
A: You imagine what that day will look like: Who will be there? Will there be balloons? Will my dog like her? What you don't imagine is that you will be bringing a fragile baby home during a global pandemic.
To say I was anxious, overwhelmed and scared would be an understatement. I remember being SO careful to wash and sanitize everything. When we took her to the doctor, I remember not wanting to sit in the chairs or put her diaper bag on the medical table. When we returned home, I wiped everything and changed my clothes. It was exhausting and lonely.
While my mom stayed with us for a few days to help with chores, we missed out on having our families over to snuggle and love on our new bundle of joy.
I remember rocking Blakely to sleep with tears because I didn't feel like I could do enough to keep her safe. Kobe reassured me, we prayed that God would keep her safe and healthy and did the best we could.
Q: When was Baby Blakely able to meet her family?
A: Blakely was more than a month old before anyone else met her, and even that was very impersonal. I stood on my parents' porch as our extended family came by wearing masks to see her while on the sidewalk. It was heartbreaking for me as a mom because you want to share the pride you feel as a parent with everyone, especially the people who helped raise you.
Q: What are your favorite memories of Blakeley's first year?
A: Blakely is SO fun and full of life - the sunshine we needed to get through 2020. Hearing her belly laugh for the first time was so memorable. It was such a pure, joyful sound and it instantly made me laugh, too. My most favorite memory of her is probably when she learned that our dog Jackson enjoys food as much as she does. She thinks it's hilarious to tease him with cookies before finally letting him have one.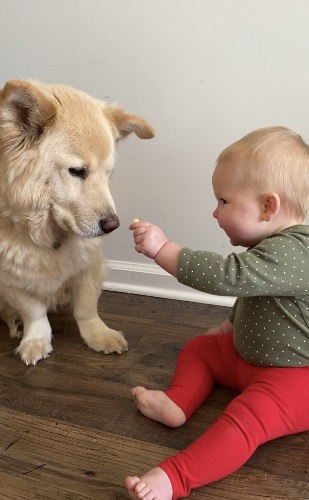 Q: What are Blakely's favorite things?
A: Blakely's favorite person is her "Bopa," my dad. They have endless fun sliding on the slide at the park, riding in the golf cart, playing with matchbox cars and being outside. She's a big fan of bath time, especially baths with bubbles. Her most favorite thing to do is eat. Her favorite foods are spaghetti and mashed potatoes – the messier the better!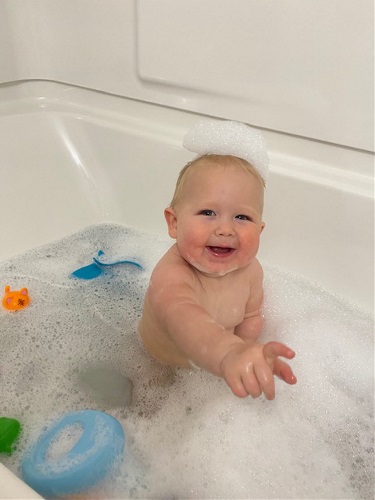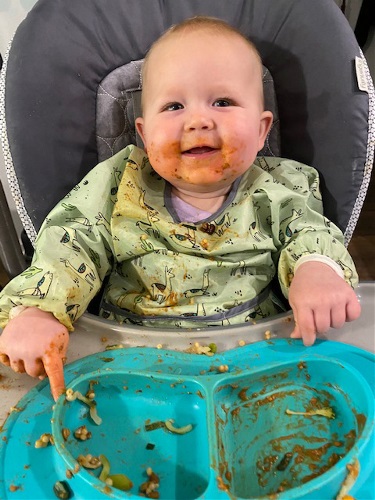 Q: Tell us about some milestones.
A: Blakely is pulling up on everything and I have no doubt she will start walking very soon. She's crawling and gets into anything within reach. She loves to hear herself squeal and says "hey," "bye-bye," "bird," "mama" and "book."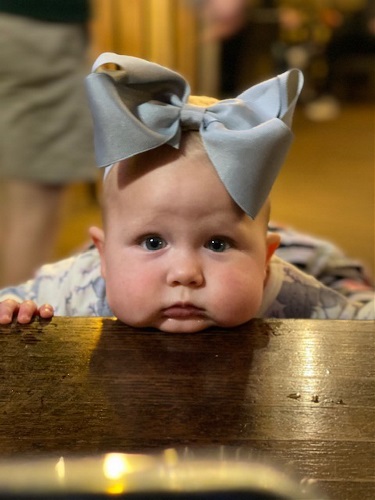 Q: What message do you have about raising a baby during a pandemic?
A: One thing I don't think I was prepared for was how the pandemic would give way to co-dependency. COVID-19 babies are unique because they aren't as socialized as babies usually are at this age. That's been especially trying now that we are able to return to church. When we take her to the nursery, she has major separation anxiety, which I know is normal, but I also think it's more apparent in babies born at the start of the pandemic when things were really just starting to shut down.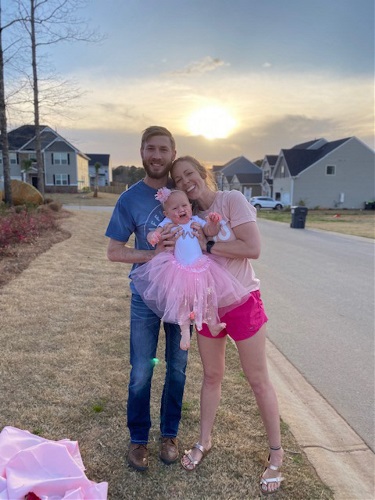 I'd love for the other COVID-19 mamas out there to realize they are strong – we brought forth life in isolation. They are capable – we gave birth without a support system in the waiting area. They are brave – we endured ultrasounds and doctor appointments alone. They are resilient – we learned (some of us for the first time) how to take care of a newborn without a helping hand. We are warriors – we are the moms of the global pandemic.