When Stacey Rostek swings her long dark blonde hair to the side, you can see a question-mark-shaped scar on her scalp. Although it's barely visible, it's a reminder that this wife and mom of three young children was diagnosed with a brain tumor one year ago.
Stacey's cancer journey began right after the joyous birth of her son Gideon. Just 11 days after an easy delivery and relatively uneventful pregnancy, the right side of Stacey's face began to feel numb. Then, the 34-year-old suffered a seizure while her daughter Lily, age 4, sat beside her on the couch inside their home in Ballentine.
Stacey remembered coming out of the seizure as her husband Michael ended his call with the 9-1-1 operator. An ambulance took Stacey to Lexington Medical Center, where an MRI revealed a mass in her brain.
That's when the Rosteks met Johnathan A. Engh, MD, FAANS, neurosurgeon with the Lexington Medical Center Brain Tumor Program. They learned Stacey had a type of brain cancer called anaplastic astrocytoma. It's rare and its cause is unknown. But Dr. Engh had a plan of attack.
"He put up the MRI showing the brain tumor and said, 'that's where it is. We're going to have to do an awake craniotomy to remove it,'" Stacey said. "And he said we needed to do it pretty quickly."
The presence of the tumor explained the numbness in Stacey's face. And it was growing in the part of her brain that affects speech.
Awake craniotomy is a type of surgery where a piece of the skull is temporarily removed to access the brain and then the patient is woken up during surgery. When a tumor is near a part of the brain that controls critical functions such as speech, language or movement, an awake craniotomy is beneficial.
"While being kept comfortable, the patient can talk, move an extremity of interest or name objects on a screen," Dr. Engh said. "It allows the neurosurgeon to track the patient's motor function and speech in real time during the operation."
That helps doctors avoid hitting nerves that control key functions. Damaging those nerves could lead to permanent disability.
"Awake craniotomy allows us to work in functional regions of the brain while keeping track of the patient's neurologic state. As a result, we can remove brain tumors that would otherwise not be safely removable," he said.
And because brain tissue does not have pain fibers, patients don't feel pain as doctors remove the tumor.
"I remember going into the surgery. I was amazingly at peace the whole time. I guess it was God's blessing over me," she said. "I was lying on my right side and my head was draped and there was one guy under the cover talking to me."
Dr. Engh and his multi-disciplinary team used brain mapping and 3-D imaging to identify speech and language centers in her brain while asking Stacey to answer questions so that they could evaluate when important areas were affected.
"She was so healthy and so cooperative, it helped us do what we needed to do," Dr. Engh said. "You can keep a patient extraordinarily comfortable with an awake craniotomy, and if you have all the pieces of the puzzle in place—anesthesia, radiology, pathology, critical care, neuromonitoring—you can achieve a successful result."


Stacey's surgery removed the tumor, but it did not end her cancer treatment journey. Testing revealed that her type of cancer affects only about 1,200 people every year. She is now under the care of a Duke Health oncologist who specializes in cases like hers. Lexington Medical Center's oncology program is affiliated with Duke Health. She has undergone radiation and oral chemotherapy.
Every two months, Stacey has an MRI to see if there is any sign of tumor growth and, so far, her scans remain clear. She will have regular scans for the rest of her life.
"Stacey is focused on living each day and celebrating every clean scan. "She has the right attitude," Dr. Engh said.
Stacey calls Dr. Engh "amazing" and is thankful for the care she has received.
"I'm not going to worry until there's something to worry about. My faith in God has kept me going with so much joy," she said. "And this whole experience has given me a lot more empathy toward people with any kind of suffering or disease."
So now, she focuses on living her best life with her family.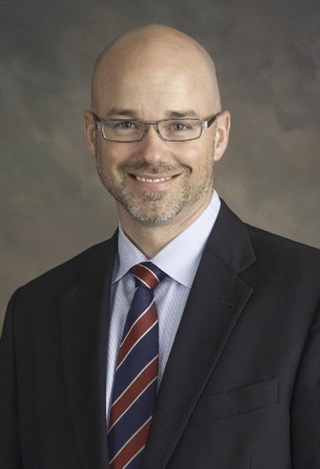 Johnathan A. Engh, MD, Lexington Brain and Spine Institute