Injury is a major public health problem. In the United States, injury accounts for over 150,000 deaths and over 3 million non-fatal injuries each year. By knowing how to respond effectively to an injury that involves significant bleeding, you can save a life.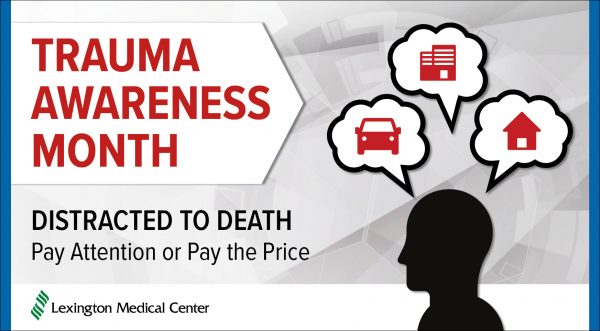 As a Level III Trauma Center, Lexington Medical Center is committed to educating our community with this life-saving information as part of the national STOP THE BLEED® campaign. The campaign was developed by military, fire, medical, and police experts after the Sandy Hook Elementary shootings in 2017 with the goals of training every American in basic bleeding control techniques and placing bleeding control kits in every public venue.
STOP THE BLEED focuses on providing community members with the tools and knowledge needed to control hemorrhage and save lives through a one-hour Bleeding Control Basic (BCON) Course. Lexington Medical Center is proud to offer this important course to our community to schools, churches, civic groups and others.
Participants learn to save lives by knowing how to take three simple actions to stop serious bleeding:
Apply pressure with hands.
Apply dressing and press.
Apply tourniquet, and remember to always dial 9-1-1 first!
For more information and to schedule a course for your group, contact Era Lanham, Lexington Medical Center Trauma Program Coordinator, at eglanham@lexhealth.org.
As we recognize May as Trauma Awareness Month and National STOP THE BLEED month, the campaign's motto is most resounding—the only thing more tragic than a death from severe bleeding is if that death could have been prevented.
We hope you will join us so you can learn to help save a life.