It was anything but a normal day of school for Katie Laney, a second grade teacher at Bethel-Hanberry Elementary in Blythewood.
Katie was seven-and-a-half months pregnant with twins.
One morning in May, the unexpected happened right outside her classroom.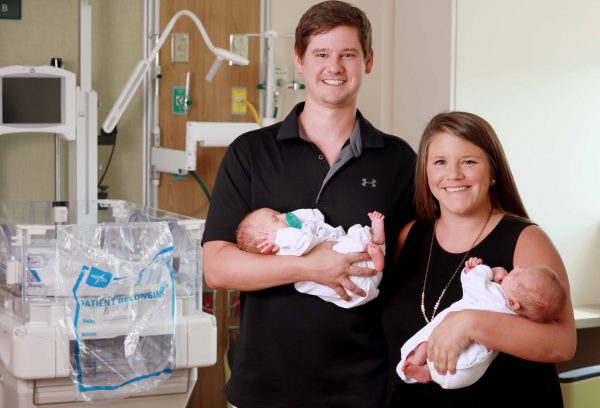 Katie Laney with her husband Jordan and their twin sons inside Lexington Medical Center's Special Care Nursery. "My water broke. I couldn't believe it. I was frantic -- a nervous wreck," she said.
Katie was only 34 weeks pregnant. Her babies weren't supposed to arrive until July.
"It was so early that it really scared me. I wasn't ready. Nothing was ready at home."
With her students anxiously peering through the classroom door to see what was happening, the school principal whisked Katie to the nurse's office in a wheelchair.
Katie's husband arrived and drove her to Lexington Medical Center. Inside Labor and Delivery at the hospital's new patient care tower, a team of clinicians monitored the babies' heartbeats and performed an ultrasound.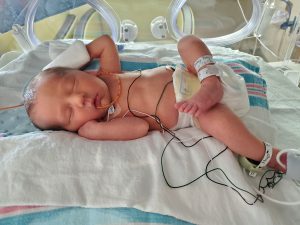 "I thought, 'Are they OK? Is everything going to be OK?'" she said. "I just wanted them to be healthy and perfect."
After a long labor, Darci Putnam, a certified nurse midwife with Lexington Women's Care, a Lexington Medical Center physician practice, delivered Katie's twins. Baby Grayson came into the world at 4:56 p.m. on Friday, May 31, weighing 5 pounds, 5 ounces. His brother Cooper followed at 6:37 p.m., 5 pounds, 1 ounce.
"They put each of them on my stomach for a split second – they cried and I felt comforted."
But then, the nurses rushed the babies to the Special Care Nursery. As preemies, the twins needed extra attention.
Katie got a long look at her sons for the first time when she arrived in the Special Care Nursery later that evening. She still tears up talking about it.
"I was emotional seeing them because they were hooked up to all kinds of wires," she said.
That's when Lexington Medical Center's Special Care Nursery nurses offered reassurance.
"They took time to explain what each wire was for," she said. "They took time to get to know me, my husband and our family. Not only did they take care of our babies, they took care of us as well."
The nurses explained that before the twins could go home, they needed to show they could breathe on their own, regulate their temperature and tolerate all of their feedings.
It was a waiting game. Katie and her husband spent all day every day in the Special Care Nursery. The 20-bed unit has all private rooms, which is a new model of care for Lexington Medical Center. Katie said it made a big difference.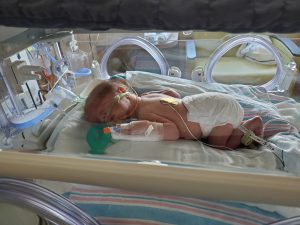 "I couldn't imagine sharing a room in such a sensitive situation or seeing other families coming and going," she said. "The private rooms also helped us connect with our nurses even more."
When Katie was discharged from the hospital, the twins had to stay.
"It was so hard leaving every night, but I knew the boys were cared for by nurses who loved them and would be there for them," she said. "That made it easier for us.
Day by day, Grayson and Cooper made progress. One by one, the wires went away. Cards from Katie's students filled the room.
After more than two weeks, the babies came home from the hospital on June 17. Today, they continue to grow and thrive.
Katie and her family remain grateful for the care they received at Lexington Medical Center. "I can't sing the hospital's praises enough."
To find a physician who delivers babies at Lexington Medical Center, visit LexMed.com/OBGYN.