Lexington Medical Center is pleased to welcome William M. Yarbrough, MD, to Lexington Cardiovascular Surgery, a hospital physician practice.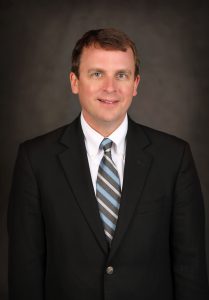 Dr. Yarbrough proudly joins the highly skilled clinicians and staff at Lexington Cardiovascular Surgery to provide cardiovascular surgical consultations, follow-up care and vascular labs as well as a variety of cardiovascular services, including aortic/mitral valve replacement, coronary artery bypass grafting, and procedures for ascending, thoracic and abdominal aneurysms, peripheral vascular disease, lung masses and carotid arteries.
A native of Columbia, South Carolina, Dr. Yarbrough, earned his bachelor's degree from Duke University in Durham, North Carolina, and graduated and his medical degree from the University of South Carolina School of Medicine. He then completed a general surgery internship and residency at the Medical University of South Carolina in Charleston, serving as administrative chief resident. He also completed a National Institute of Health postdoctoral research fellowship while at MUSC.
After completing his general surgery training, Dr. Yarbrough completed a cardiothoracic surgery residency at Stanford University in Stanford, California. He has published more than two dozen manuscripts, written and contributed to numerous book chapters and presented at peer-reviewed regional and national conferences.
Board certified by the American Board of Surgery and the American Board of Thoracic Surgery, Dr. Yarbrough most recently served as a cardiovascular and thoracic surgeon at Providence Thoracic and Cardiovascular Associates in Columbia. Prior to that role, he was an assistant professor of Cardiothoracic Surgery at MUSC.