You might say Carrie Morris is a superwoman. The Chapin mom ran 48.6 miles in four days at Walt Disney World's "Dopey Challenge" in January. This ultimate test of running is part of the theme park's marathon weekend, where runners complete a 5K, 10K, half marathon and full marathon over four consecutive days. The most significant part? The 42-year-old accountant successfully crossed each finish line just one year after completing long and arduous treatment for breast cancer.
A Breast Cancer Diagnosis
In 2021, Carrie's friend from high school needed a new kidney. Carrie wanted to donate one of hers. Carrie's medical work-up included a mammogram. At Lexington Medical Center's Women's Imaging in Irmo, clinicians called Carrie to say her mammogram showed some abnormalities and they wanted to perform a biopsy. A few days later, she was diagnosed with breast cancer. She had a tumor in her right breast that had spread to her lymph nodes. She had never felt a lump, and it was her first-ever mammogram.
"I went quickly from trying to donate a kidney to saying, 'Oh my goodness. I have cancer.'"
After a lot of testing, doctors at Lexington Medical Cancer Center determined Carrie's tumor was hormone positive. That means the cancer cells had receptors that allowed them to use estrogen and progesterone to grow.
"I was totally blindsided. I was 40. Forty-year-olds aren't supposed to have breast cancer. I wasn't overweight, I didn't drink, I didn't smoke. I thought I was doing everything right."
The treatment was intense. Carrie's chemotherapy regimen included Adriamycin, a medicine nicknamed the "red devil" because of its bright red color and strong side effects. Her hair started falling out less than two weeks after the first treatment. She shaved her head. She became exhausted, nauseated and nothing tasted right.
"It was almost surreal – like I was watching a stranger go through everything."
When Carrie finished chemo, she underwent a double mastectomy at Lexington Surgery, a Lexington Medical Center physician practice, and underwent 28 rounds of painful radiation. Like running a marathon, cancer treatment is a long journey with a lot of twists and turns, not a quick sprint.
The good news? When treatment was over, tests revealed the cancer was gone. And Carrie was ready for a new challenge.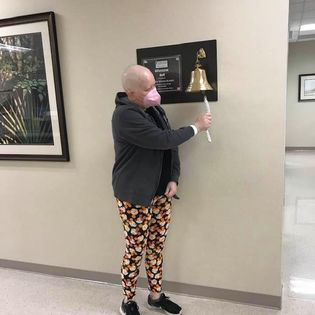 "Bad stuff happens. But we can get through it – and be stronger on the other side."
Lacing Up the Sneakers
"I've never been a good runner," Carrie said. "I ran cross country in high school – and always finished last. I picked up running again about six years ago and ran a half marathon. I'm a run/walker – very slow."
But she loved Disney. And learned about the Dopey Challenge.
"It became my return to life goal. I would show myself I was still me – I could still put my mind to something, accomplish it and feel good about it. And go further. I'm a stronger person now after breast cancer."
So, she registered for the four-day, grueling race, and began training in May, just four months after completing treatment – and having not run at all in a few years.
She started with a Couch to 5K program – working up to running 22 miles and training up to five days a week.
"One of the things that scared me the most was that in training I never made it past 22 miles."
The self-doubt crept in. "I thought, 'How am I going to do this?'"
Winning the Race
Each day of the challenge, Carrie would board a bus at her hotel at 2:30 a.m. The races started at 5:00 a.m., long before sunrise.
"The 5K, 10K and half-marathon weren't bad because I was so well-trained," she said.
But then came marathon day.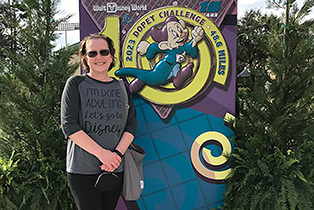 "That last day was scary – I wasn't sure I could do it – but I didn't want to let my kids down."
Her 12-year-old children David and Mattie were there, along with her mom, who she calls a "rock star."
"It wasn't until about mile 15 that I thought I could do it. I told myself I was on the downhill. But then the sun was up, it started to get hot, and my right arm was swelling."
People were cheering. She didn't stop. If she did, she said she thought she wouldn't start moving again.
"My mom and kids were waiting at the finish line. Once I could see them, I started getting really emotional. I thought, 'I'm actually going to finish it.'"
And she did.
Life Lessons
Carrie thought a lot about breast cancer and other survivors during those 48.6 miles.
"I want breast cancer patients to know there's another side to it. You get to pick the new version of you. Keep going. Don't slow down. Be the best you that you can be."
Today, Carrie takes medicine to help prevent cancer recurrence.
And she's training for her next multi-day race in April.