Cherries are highly nutritious (and delicious), and they offer a host of health benefits, such as reducing inflammation, improving sleep, boosting heart health and speeding up recovery after exercise.

Health Benefits
Blood Sugar Management Cherries have anthocyanins, which can increase insulin secretion to help regulate blood sugar levels. They are very low on the glycemic index, too. Bodies digest, absorb and metabolize foods with a low GI value slowly and cause a gradual rise in blood glucose levels.
Nutrient-Rich Cherries are a good source of vitamin C, potassium, fiber and other nutrients that your body needs to function optimally.
Antioxidants and Anti-inflammatory Compounds All cherries are packed with antioxidants and anti-inflammatory compounds, especially in polyphenols. This large group of plant chemicals help fight cellular damage, reduce inflammation and promote overall health.
Exercise Recovery Research has found that cherry juice and concentrate accelerate muscle recovery, decrease exercise-induced muscle pain and prevent strength loss in elite athletes, such as cyclists and marathon runners.
Heart Health Many studies show that diets rich in fruit are associated with a reduced risk of heart disease. Cherries are particularly beneficial as they're rich in nutrients and compounds that promote heart health, including potassium and polyphenol antioxidants.
Arthritis and Gout Due to their potent anti-inflammatory effects, cherries may reduce symptoms of arthritis and gout, which is a type of arthritis that can lead to extreme swelling, inflammation and joint pain.
Grilled Chicken and Cherry Salad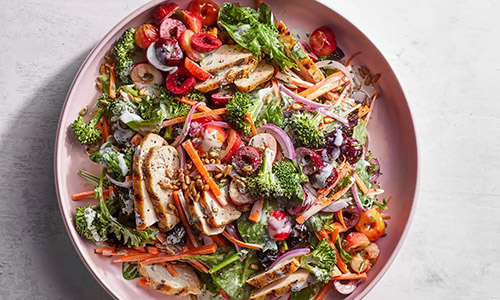 Ingredients
4 c baby kale and/or baby spinach
12 oz fresh sweet or tart red cherries, pitted and halved (about 2 c)
1 c small broccoli florets
1 c carrots, cut into matchsticks
½ c red onion, thinly sliced
¼ c dried tart red cherries
¼ c roasted, salted sunflower kernels
¼ c mayonnaise
2 – 3 T fresh tarragon, chopped
1 T cider vinegar
1 T lemon juice
2 tsp sugar
½ tsp kosher salt
¼ tsp ground mustard
Pinch ground black pepper
1 lb boneless, skinless chicken breast halves, grilled and sliced
Step 1: In a large bowl, combine greens, fresh cherries, broccoli, carrots, onion, dried cherries and sunflower kernels.
Step 2: In a small bowl, whisk together mayonnaise, tarragon, vinegar, lemon juice, sugar, ½ teaspoon of kosher salt, mustard and a pinch of ground black pepper.
Step 3: Combine dressing and salad, and top with chicken. Serve immediately or chill covered for up to 2 hours.