Salmon is one of the best proteins you can eat. This extremely popular and flavorful fish is packed with flavor and nutrition, and it's widely available fresh, frozen and even canned.
Health Benefits
Omega-3s: These fatty acids are also known as DHA and EPA. Your body can't make them, so you need to get them from your diet. Salmon is a great source of omega-3s, which help reduce inflammation, lower blood pressure and reduce your risk of cancer.
Protein: Salmon is a great healthy protein, which is an important building block for healthy tissues and bones.
B vitamins: Salmon is rich in all B vitamins, which are crucial for having good energy levels, proper function of the brain and nervous system, hormonal balance and more.
Tryptophan: Important for regulating sleep, tryptophan helps your body make serotonin and melatonin.
How to Choose Salmon
Salmon at your local grocery store or market may be frozen, fresh, canned or smoked. Generally, pink salmon is available canned, which is great for salmon cakes. Frozen and fresh salmon come in a lot of different varieties, such as king salmon (the richest and most fatty) to sockeye (bright red salmon with a generous amount of fat) to coho (freezes well).
Whatever salmon you choose, make sure it has a bright, vibrant color. Dull or pale salmon indicates that it's losing its freshness. If you're buying fresh fillets, push the fish with your finger to test its freshness. Fresh fillets "bounce back," while older fillets stay indented where pressed. Buying a whole salmon? Make sure its eyes are bright, it has shiny skin, and it feels firm and strong when you lift it – never soft or floppy.
Finally, use your nose. Fresh seafood should have a "sea" smell, not a "fishy" or ammonia-like odor.
Salmon with Sweet and Spicy Rub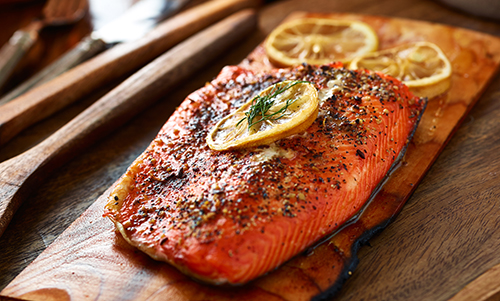 Ingredients
Nonstick cooking spray
2 T light brown sugar, packed
1 T chili powder
1 tsp ground cumin
1/8 tsp salt
1/8 tsp black pepper, freshly ground
6 salmon fillets (6 oz each), skin and pin bones removed
1 T olive oil
Directions
Coat your grill or a grill pan with cooking spray and preheat over medium heat.
While the grill heats, combine the brown sugar, chili powder, cumin, salt and pepper.
Brush each salmon fillet with ½ teaspoon of the oil, then rub each fillet with about ½ tablespoon of the spice mixture.
Grill salmon, flesh side down, until charred, 4 to 5 minutes.
Flip the salmon and cook another 5 to 6 minutes for medium doneness. For well-done fish, cook an additional 1 to 2 minutes.
Remove to a platter and serve immediately.