Inside Lexington Radiation Oncology at Lexington Medical Cancer Center, precisely focused 3-D imaging targets high doses of radiation to treat tumors in the brain, neck, lungs, liver, spine and other parts of the body with minimal effect on surrounding healthy tissue.
This innovative technology is called stereotactic radiation. Lexington Medical Cancer Center is the only facility in the Midlands offering this treatment. And it's producing positive outcomes for many cancer patients.
"Stereotactic radiation ablates or sterilizes tumors in different places in the body without anesthesia or invasive surgical procedures," said Quillin Davis, MD, of Lexington Radiation Oncology, and medical director of Lexington Medical Cancer Center. "It's as effective as surgery in many cases."
Lexington Medical Cancer Center uses a Varian TrueBeam® linear accelerator for stereotactic radiation. This specialized equipment focuses many small beams on a tumor, delivering radiation to the site where the beams intersect.
Like other forms of radiation, stereotactic radiation works by damaging the DNA of cancer cells. The affected cells lose the ability to reproduce, which causes tumors to shrink.
Unlike other forms of radiation that take place daily over many weeks, stereotactic radiation can achieve desired results in just a few days.
A Success Story
Steve Melton has smoked cigarettes since he was 12 years old – as many as two packs a day.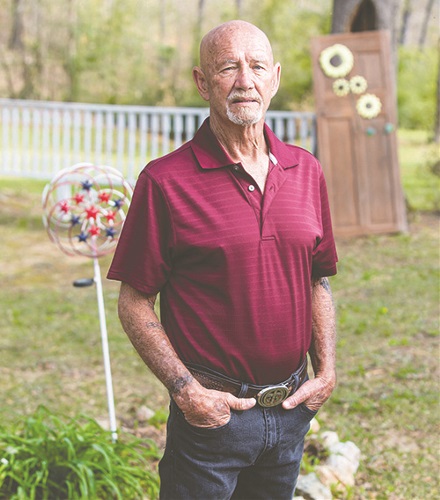 Today, he's 70. Steve and his wife Kay live in Whitmire – enjoying time with their children, grandchildren and great-grandchildren.
At the urging of his primary care physician, Steve underwent a lung cancer screening last fall. The test revealed stage 1 cancerous tumor in the lung about the size of a grape. Steve became a patient of Dr. Davis at Lexington Radiation Oncology.
Steve received four stereotactic radiation treatments over four consecutive days. Each treatment took just 20 minutes. At the end of the last treatment, the tumor was gone.
"I thank God that he gave Dr. Davis and his staff the incredible ability and intelligence to do what they do," he said.
Every three months, Steve will have a CT scan to make sure the mass has not returned. According to Dr. Davis, the chance of controlling a stage 1 cancer like the one Steve had with stereotactic radiation is 80 percent if he stops smoking. And the benefits don't end there.
"You can drive yourself to and from treatment. And it's less invasive than a biopsy," Dr. Davis said.
Before stereotactic radiation, patients like Steve may have undergone surgery to remove a lobe of the lung. That type of surgery can have long-term consequences for patients such as trouble breathing.
Steve is thankful.
"It was some of the best care I've ever received. Dr. Davis and his team are super people," Steve said.
The Best Options
Stereotactic radiation works best for early-stage cancers of the lung or cancers that have spread to the brain, liver or spine. That's because of its ability to shrink tumors in one specific spot. It's also a good option for patients who are not good candidates for surgery.
Other cancers may require radiation to a larger area of the body, such as post-operative radiation to the breast for a breast cancer patient. In those cases, doctors would use a different type of radiation.
Stereotactic radiation shows promise for many cancer patients.
"The ability to treat cancer non-invasively is a great option," Dr. Davis said.