Debra Allen has worked as a librarian for 40 years. But she never thought she'd share a story like this one. With the help of an innovative therapy at Lexington Medical Center, Debra survived a very serious, life-threatening battle with COVID-19.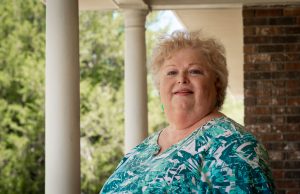 Debra Allen
As the first cases of COVID-19 were diagnosed in South Carolina in early March, Debra started feeling sick. "I felt like I was coming down with something. I became short of breath. Then, I could hardly breathe at all," she said.
The 65 year old had pneumonia last year but noted this situation as much worse. Debra's husband Ed rushed her from their home in St. Matthews to the Lexington Medical Center Emergency department on Saturday, March 14, where a busy triage tent had been set up outside to screen patients with respiratory symptoms.
"My oxygen levels were 70 percent. They put me on oxygen right away," she said.
Doctors performed a COVID-19 test and admitted Debra to the hospital. With a strict no visitation policy in place, Ed drove the 45 minutes home and nervously waited for news.
The next day, Debra's temperature spiked to 104 degrees. She was in septic shock with multiple organ dysfunction and acute respiratory distress syndrome, and she required medicine to maintain her blood pressure along with a machine to help her breathe. When her test results came back, Debra's nurse called Ed and told him his beloved wife of 39 years had COVID-19 and was in critical condition.
"My jaw hit the floor," Ed said. "It's just me, her and the cats. I wanted them to let me sit at her bedside in a HAZMAT suit because the hardest part was not being able to talk to her hour to hour. But I couldn't."
Debra's heart began racing. She has a history of atrial fibrillation, a condition where the heart beats in an abnormal rhythm. In addition, COVID-19 weakened her heart, leading to congestive heart failure. Cardiologists had to perform a procedure to shock Debra's heart into beating normally.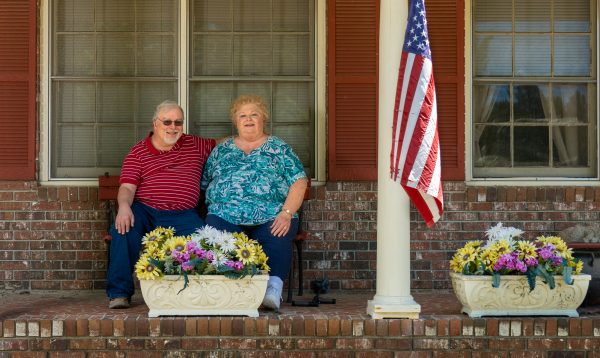 Ed and Debra Allen at home in St. Matthews
At home in St. Matthews, Ed carried his phone with him around the clock. He and Debra were college sweethearts who've been together ever since they met on a blind date at the University of South Carolina in 1976. "I slept with the phone on her pillow at night because I was so afraid I was going to get a call," he said.
Debra received many medicines to treat her COVID-19, from antibiotics to steroids and more, under the care of Matthew J. Day, DO, a critical care physician at Lexington Medical Center. Her situation was dire. "Mrs. Allen was Lexington Medical Center's first serious COVID-19 case," said Dr. Day. "Her condition kept declining despite aggressive care."
That's when Dr. Day told Debra he wanted to try therapeutic plasma exchange, known as TPE or PLEX. This innovative and aggressive treatment replaces a sick patient's "inflamed" plasma with standard "clean" plasma supplied by the American Red Cross in a three-hour, bedside treatment. The idea is that plasma from a healthy person can help a patient fight COVID-19.
This treatment has been used for many years for other conditions, but medical intensive care physicians at Lexington Medical Center have used it since late 2019 for patients with septic shock and multiple organ failure. In March, they started using it for patients with COVID-19.
Therapeutic plasma exchange is different than the more widely used convalescent plasma, which transfuses plasma from a recovered COVID-19 patient. Lexington Medical Center is one of only a handful of hospitals in the nation using this type of plasma exchange for COVID-19 patients.
"COVID-19 alters chemical communicators in the body that help fight infection," Dr. Day said. "We think the donor plasma may be able to tell the body how to fight the infection and mitigate the body's response to it."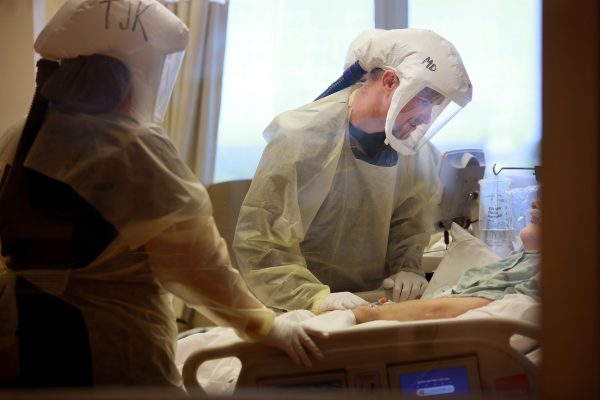 Dr. Matthew Day takes care of a patient in Lexington Medical Center's Critical Care Unit.
Starting with the lungs and moving around the body, COVID-19 causes chronic inflammation, blood vessel dysfunction and clotting issues. Doctors think the healthy plasma can remove inflammation, allowing organs to heal, too.
One day after Debra's plasma exchange, the tide turned. "I woke up feeling better," Debra said. "They started to reduce my oxygen. By the end of the week, I was out of bed and in the chair. I was able to eat again."
And she wasn't alone. In a group of eight COVID-19 patients at Lexington Medical Center, doctors saw a remarkable improvement in six of them shortly after the plasma exchange. Five recovered and were discharged. The sixth went off life support. Considering the seriousness of their illnesses, doctors say that percentage is exponentially higher than expected. "This type of plasma exchange appears to be one of many tools we can use to treat COVID-19," said Dr. Day.
Dr. Day and his colleagues have written a paper about the successful use of plasma exchange for patients with sepsis and multiple organ failure. Since then, Lexington Medical Center has received calls from hospitals around the world with questions about this therapy for COVID-19 patients. Among others, Debra's husband Ed is a believer.
"I think the plasma made the difference for her," he said. "She looks and sounds better than she has in a long time."
Debra spent a total of two weeks in the hospital and is now back home in St. Matthews. "I feel the best I've felt in more than a year," Debra said.
Dr. Day hopes to continue using this type of plasma exchange. "Innovative change is often slow in most places," he said. "But at Lexington Medical Center, everyone has stepped up and said, 'If this is going to help patients, we've got to make it happen.'"