Donna Peele, MDiv, BCC, is the director of Pastoral Care at Lexington Medical Center. Today, she shared this prayer with hospital employees. We're thankful for her spiritual guidance and leadership during this time, and always.
I have lived in South Carolina since 1984. It is home now. I was married here, had my children here, and have history here. I remember major events that caused us pause in life as we know it: Hurricane Hugo, tornadoes, the flood, heat waves, and I think it may have snowed once.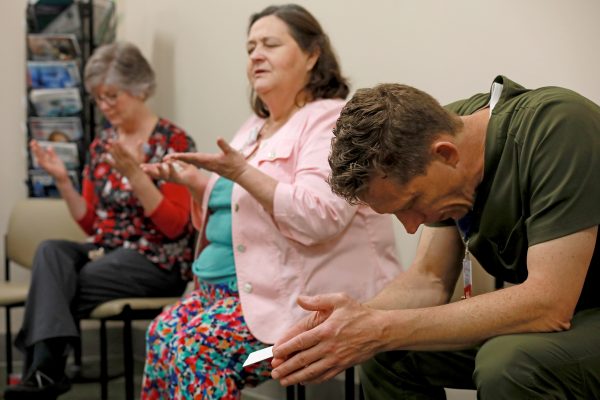 Donna Peele prays with clinicians inside Lexington Medical Center.
I remember times when human behaviors stopped us cold as we learned of evil in the hearts and actions of people taking the lives of children and worshipers, and how we watched people shout hate-filled statements to one another over issues.
I also remember when South Carolina beat Clemson in football FIVE years in a row.
I guess that means several things: 1. I'm old. 2. We have been though some stuff in this state, good and bad. 3. The story is still being written.
How we come out of the virus is our story to write. It is our response to what life has given us to deal with. It doesn't belong to any group, any party, any team, or any area. What we have is a situation and lots of choices. No one I know would elect this situation as a good idea, but here we are. Personally, I didn't think the flood was a good idea either.
We survived the flood. We survived Hurricane Hugo. And we will get through this. How we do that is up to us, individually and together. We can elect to live fearful and spread dread or we can live in awareness and carefulness. We can make deliberate choices and have intentional conversations with family members. We can use our words to speak good and truth or to enhance worry and conflict.
So, let me take this moment to meddle: Do you need to call someone and encourage them, make peace or express gratitude? Do you need to tell a family member you love them? Write your story, but it doesn't have to be a tragedy or a horror story. Make it a story of strength, of courage, of compassion, of faith and hope and most of all love.
Lord, hear our prayer for the days ahead. We are told they will be hard. Let them find us prepared, strong and able. And when this story is done, let it show us to be faithful to our task, our values and each other. We know You are a faithful God and we thank you for being with us. Always. ~Lord hear our prayer. Amen.