Lexington Medical Center has an all-new mobile magnetic resonance imaging unit to better serve patients in the Midlands. The unit will travel to Lexington Family Practice Northeast, Palmetto Family Medicine, Lexington Family Practice Summit, Lexington Family Practice White Knoll and the main campus. This wide-bore MRI features extremely high detail and gives patients a convenient alternative to in-hospital imaging services.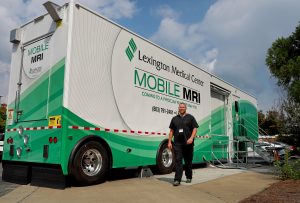 "This mobile MRI unit will give Lexington Medical Center the ability to bring MRI services to any of our physician practices. For patients who might have to drive 20 to 30 minutes to receive an MRI at one of our current locations, this technology gives them the ability to have it done right in their home area using a state-of-the-art machine," said Wesley Harden, FAHRA, CRA, BSRT, director of Imaging Services.
MRI is a non-invasive medical test that uses a powerful magnetic field, radio frequency pulses and a computer to produce precise images that allow clinicians to clearly see details of soft tissue, bone, joints and ligaments. Many physicians now say it is one of their most critical diagnostic tools for everything from sports injuries to early stages of disease.
To schedule patients for a mobile MRI, call Centralized Scheduling at (803) 791-2641.