This month, Lexington Medical Center's heart program reached a new milestone in its work to provide patients with the most advanced technology in cardiovascular care. Doctors implanted the first LOTUS Edge™ aortic valve system in South Carolina. This device represents the latest generation of valve replacement for patients with severe aortic stenosis.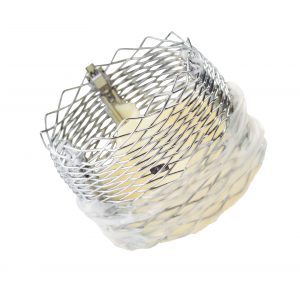 LOTUS Edge. Courtesy: Boston Scientific

"The LOTUS Edge is the newest FDA-approved aortic valve replacement. It has several advantages over other valves in terms of safety and effectiveness. We're excited to be the first in South Carolina to offer this technology to our patients," said Robert A. Leonardi, MD, FACC, FSCAI of Lexington Cardiology, a Lexington Medical Center physician practice.
Severe aortic stenosis is significant narrowing of the aortic valve opening that can restrict blood flow out of the heart. It makes the heart work harder to move the blood throughout the body and can ultimately lead to heart failure.
The LOTUS Edge is implanted through transcatheter aortic valve replacement, known as TAVR. In this procedure, doctors replace the aortic valve with a catheter instead of open heart surgery. The artificial valve is compressed into a catheter that travels through a large blood vessel in the body to the diseased aortic valve. Doctors deploy the artificial valve over the patient's valve. The new valve begins functioning immediately, restoring normal blood flow to the heart.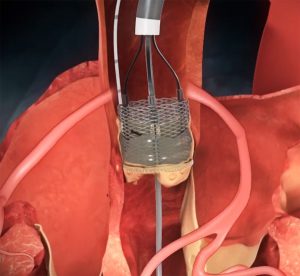 Lotus Edge. Courtesy: Boston Scientific

The LOTUS Edge is unique because it's the only replacement valve on the market that allows doctors to reposition the new valve into an optimal position within the heart. It also has a seal that has been proven to reduce leakage of blood around the outside of the valve.
"This milestone showcases the incredible benefit of a truly integrated heart valve team. It benefits the patients to have cardiologists and surgeons working together," said Jeffrey A. Travis, MD, heart surgeon at Lexington Cardiovascular Surgery, a Lexington Medical Center physician practice.
Dr. Leonardi and Dr. Travis performed the procedure together inside the cardiac catherization lab at Lexington Medical Center.
Lexington Medical Center has consistently demonstrated leadership in heart care. The hospital has the most experienced TAVR team in the Midlands and has performed the first fully percutaneous and first awake TAVR procedures in South Carolina. Patients typically go home the next day.
Lexington Medical Center began its comprehensive cardiovascular program in 2012 and has continued to expand its heart services to meet the needs of the community. The program is affiliated with Duke Health and has earned a three-star rating – the highest rating possible – from the Society of Thoracic Surgeons.