This post is part of a blog series about the features of our new patient care tower. The 545,000 square foot project is the largest hospital expansion in South Carolina history. The 10-story tower is the new home of the Mother/Baby department, eight operating rooms, six floors for surgical, obstetric, ICU and oncology patients, enhanced dining options, a spacious atrium, educational space and a serenity garden.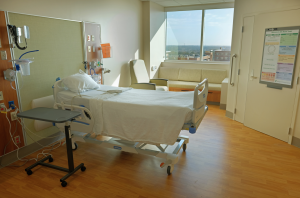 Inside our new patient care tower, we want to make sure we reduce the risk of infection and spread of germs as much as possible.
One way we've worked toward that goal is to cover all "high touch" areas including door knobs, handles, toilet flushers, IV poles and sink poles. Research has shown that copper can destroy germs and reduce the risk of disease.
Germs on a laminated over-bed table can be there two hours later. But germs on a copper surface will naturally die because copper provides much less opportunity to transfer infection.