This post is part of a blog series about the features of our new patient care tower. The 545,000 square foot project is the largest hospital expansion in South Carolina history. The 10-story tower is the new home of the Mother/Baby department, eight operating rooms, six floors for surgical, obstetric, ICU and oncology patients, enhanced dining options, a spacious atrium, educational space and a serenity garden.
Lexington Medical Center has a legacy of welcoming bundles of joy into the world. Since the hospital opened in 1971, more than 100,000 babies have been born here.
Today, Lexington Medical Center delivers more babies than any other hospital in the Midlands, welcoming approximately 3,300 tiny new citizens each year.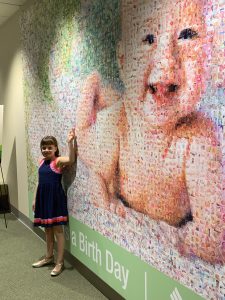 To honor our commitment to delivering babies, our new patient care tower has a baby mosaic featuring the photos of more than 4,000 babies born at Lexington Medical Center in the past 48 years... Like Anna Grace, born December 17, 2009. She was happy to find her photo on the mosaic.
Beginning today, the mosaic is on display in the lobby of the Main Entrance of the hospital on East Hospital Drive. Community members are invited to come by to see it.
To acquire these photos, we asked community members to upload photos of their babies earlier this year. We were overwhelmed and overjoyed by the interest and response, and were able to include all submitted photos in the project. Then, we designed and created the giant mosaic. It will be on permanent display in Labor & Delivery on the first floor of the new patient tower.


You may be wondering... Who was the first baby born at Lexington Medical Center? Her name was Windy Baird, born on January 6, 1971, just hours after the hospital opened. Here's a picture of her with her mom Virginia on her #LMCBirthDay.
Lexington Medical Center is consistently voted "Best Place to Have A Baby" by the people of the Midlands. The hospital has more than 25 OB/GYNs who deliver babies at our hospital, plus certified nurse midwives. The hospital is also home to a first-of-its-kind doula program. A doula is a birth coach who offers mothers comfort and reassurance during labor and delivery. Doulas are a free service for any woman having a baby at Lexington Medical Center.
To learn more about clinicians delivering babies at Lexington Medical Center, find a doctor..