Lexington Medical Center's Surgical Intensive Care has received a silver Beacon Award for Excellence from the American Association of Critical-Care Nurses for outstanding patient care and outcomes. The honor goes to an elite group of hospitals in the United States. There are only three hospitals in South Carolina to receive this award, and Lexington Medical Center is the only one in the Midlands with this accomplishment.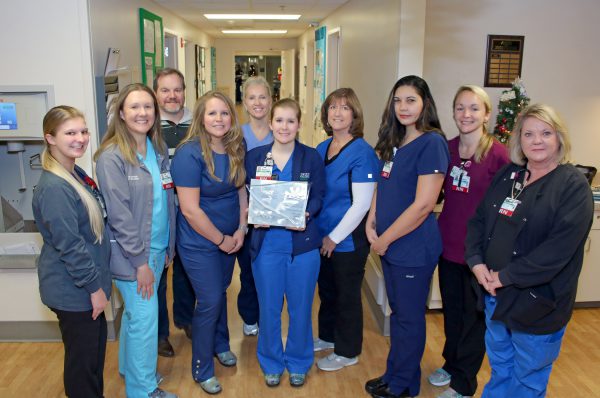 "The staff of SICU/CVICU at Lexington Medical Center is dedicated to delivering excellent, compassionate care," said Katie Hilton, RN, BSN, CCRN-K, nurse manager for SICU/CVICU. "We continually look for ways to improve patient outcomes and our patients' experience. On behalf of SICU/CVICU, we are honored to receive the silver distinction and be recognized for our efforts by the American Association of Critical-Care Nurses."
The Beacon Award for Excellence — a significant milestone on the path to exceptional patient care and healthy work environments — recognizes unit caregivers who successfully improve patient outcomes and align practices with AACN's six Healthy Work Environment Standards. Units that achieve this three-year, three-level award with a gold, silver or bronze designation meet national criteria consistent with Magnet Recognition, the Malcolm Baldrige National Quality Award and the National Quality Healthcare Award.
"The Beacon Award for Excellence recognizes caregivers whose consistent and systematic approach to evidence-based care optimizes patient outcomes. Units that receive this national recognition serve as role models to others on their journey to excellent patient and family care," said AACN President Clareen Wiencek, RN, PhD, ACNP, ACHPN.