Richard Brock, clinical pharmacy manager, and William Creek, pharmacist at Lexington Oncology, dive into their hobby – literally. They are both certified-scuba divers. When they started working together years ago, Richard and William learned they shared the hobby. The newfound friends took their first dives off the South Carolina coast, and then decided to try hunting for fossils and artifacts in black water near Moncks Corner.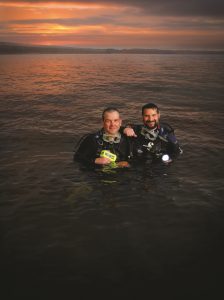 "The Cooper River is a tidal river, so it continuously refreshes artifacts and fossils. People come from other countries to dive there. Holding a piece of history that hasn't been touched or seen by anyone else is incredible," said Richard.
Richard has been a certified scuba diver since age 14, when he earned his certification in Explorer Scouts (now Venture Scouts). His 14-year-old son will become SCUBA certified this summer, and he hopes to have his 11-year-old daughter certified when she's a little older. William is the only diver in his family.
"I started diving to do something unique and interesting," said William. "And discovering relics and fossils is certainly unique and interesting! To bring up a pottery fragment or spear point that was last touched by human hands thousands of years ago really gives one perspective on things," he said.
Both men have favorite dives from the Cooper River.
"My favorite dive was several years ago when Richard found a 6-inch tooth," said William. Richard's favorite black-water dive was his first in the Cooper River. "I found a Civil War-era vegetable platter and a fossilized deer jawbone with the teeth intact."
Richard's dream dive, however, is a place called Truk Lagoon.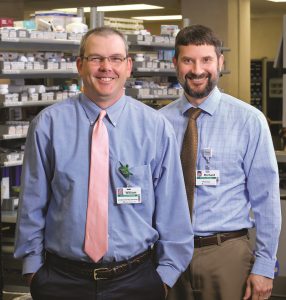 "It's the site of a fierce World War II battle and is now a scuba diving paradise with more than 100 ships, planes and submarines resting underwater," he said.
Richard and William hope to continue to dive together for years to come.
"I want to continue diving at least once a year in the Cooper River. I also started blacksmithing about two years ago, and I'm furthering my knowledge in that field," said William.
Richard is busy helping 14 boy scouts become scuba certified this summer and plans to take them on a scuba adventure at Sea Base in the Florida Keys next summer.
"We aren't guaranteed tomorrow. It's important to do something you love to be happier employees and better serve our patients," said Richard.