Lexington Medical Center is more than two years into the largest hospital expansion in South Carolina history. From more patient rooms and parking to educational space and enhanced dining options, this three-year project will help LMC continue to meet the health care needs of patients and their families.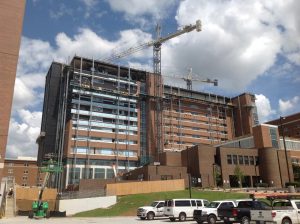 Construction of the new patient tower, 955-space parking garage and central energy plant is progressing according to schedule. With continued good weather and timely equipment and material delivery, contractors anticipate completing the new patient tower by March 2019 – less than one year from now!
The new parking garage is complete and open for assigned employee use only. More than 300 employees park there each day, which has opened additional surface spaces to accommodate patients and family members visiting Lexington Medical Park 2, Lexington Medical Park 3 and the hospital. The new central energy plant is operational and providing conditioned air to portions of the new tower to allow for drywall finishing, painting and completing other details.
Importantly, Lexington Medical Center will be renaming its towers. The current North Tower will become the East Tower, and the new tower will be known as the North Tower. The current North Tower Entrance is also changing. The hospital will identify this entrance as its Main Entrance.
Recent Accomplishments in the Clinical Expansion: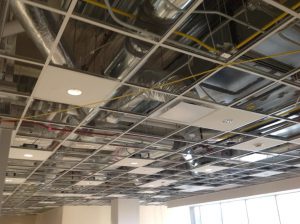 - All interior framing is complete from the Lower Level through the 10th Floor.
- SCE&G permanent power and gas connection to the building is complete.
- All mechanical equipment units (chillers, boilers, pumps, etc.) are installed and turned on in the central utility building.
- Air handling units are turned on and providing air conditioning to the Lower Level, Ground Floor and 1st Floor.
- Sheetrock hanging is complete on the Lower Level through the 6th Floor.
- Cabinetry is installed on the Lower Level through the 1st Floor.
- Site retaining walls for the plaza area and water feature are in progress.
- Brick veneer and architectural precast elements are being installed on all elevations of the new North Tower.
- Curtainwall glass system has been installed on the east and west bridges.
- Phase 2 of the Sterile Processing renovation is complete, and the department occupied the space on May 14.
- New staff lounges for the East Tower are complete on floors 4, 6 and 7. LMC had to relocate these staff lounges to accommodate the new connecting bridges on each floor of the North Tower.
- Corridor carpet for the East Tower has been replaced on floors 4, 5, 6 and 7 prior to connecting the two towers at project completion.