Endometriosis is a condition where the tissue that normally lines the uterus grows outside the uterus. It can be painful and debilitating. Many women suffer for a long time and it doesn't get better, despite trying multiple treatments.
Vista Clinical Research can offer these patients new options that may finally help them feel better. As part of the Lexington Medical Center network of care, Vista Clinical Research has expertise in clinical trials involving all areas of women's health, including endometriosis.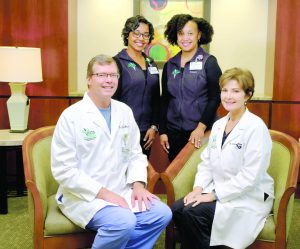 The Vista Clinical Research team

John H. Moore, MD, and Kathryn L. Moore, MD, are the physician investigators who oversee the clinical trials. Both also practice gynecology at Vista Women's Healthcare, a Lexington Medical Center physician practice.
"When I focus on research, I think about the potential benefits to the patient," said Dr. John Moore. "A lot of our patients have exhausted all other options. These methods are sometimes their last chance to achieve significant symptom relief."
Dr. Kathryn Moore was interviewed in this WIS-TV news story about endometriosis this week. The story featured the stories of Midlands women who suffer with the condition.
In addition to endometriosis, Vista Clinical Research is also enrolling women in trials for uterine fibroids and bacterial vaginosis.
The physicians select the trials in which they want to participate. Each investigational medication has shown potential benefits in earlier studies, but must complete all FDA-mandated trials before being considered approved for widespread use.
To learn more about participating in one of these trials, visit VistaClinicalResearch.com