The American Heart Association, in partnership with the American Medical Association, has recognized 19 Lexington Medical Center physician practices with the Target: BP™ Gold designation for successfully treating patients with hypertension in the 2016 calendar year.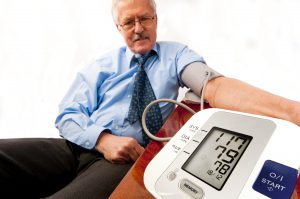 Recent AHA guidelines define blood pressure as normal at less than 120/80 and high blood pressure as 140/90 or above. The Target: BP program recognizes physician practices, hospitals and health care organizations that achieve hypertension control rates at 70 percent or higher among adult patients.
Hypertension is a major problem in the U.S. One in three American adults has it, and it's a leading risk factor for heart attack and stroke. By keeping hypertension rates under control, physicians and advanced practice providers can reduce the number of Americans who suffer from these and other health issues.
"Target: BP recognition is more evidence of the high quality of medicine delivered at Lexington Medical Center by our physicians and advanced practitioners," said Robert M. Callis, MD, medical director of Quality and Population Health with Physician Network Services.
More than 300 organizations submitted data for the Target: BP recognition program this year. Congratulations to the following LMC physician practices on this achievement! −Carolina Women's Physicians −Chapin Family Practice −Harbison Medical Associates −Internal Medicine Associates −Lexington Cardiology −Lexington Family Practice Ballentine −Lexington Family Practice Otarre Pointe −Lexington Family Practice West Columbia −Lexington Family Practice White Knoll −Lexington Internists −Lexington Women's Care Irmo −Lexington Women's Care Lexington −Lexington Women's Care West Columbia −Mid Carolina Internal Medicine −Palmetto Family Medicine −Peterson and Plante Internal Medicine (Downtown Columbia) −Peterson and Plante Internal Medicine (Irmo) −The Columbia Medical Group −Vista Women's Healthcare
New Blood Pressure Guidelines in 2017

For the first time in 14 years, the American Heart Association and the American College of Cardiology have redefined high blood pressure as readings higher than 130/80.