How to Help Someone Having a Seizure
November is Epilepsy Awareness Month. Dr. Jessica Floyd, neurologist with the Southeastern Neurology & Memory Clinic, was a guest on WACH-TV with news reporter Tyler Ryan to talk about what you should do if someone near you is having a seizure. Check out the link below.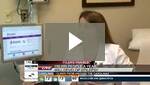 One in 26 people will have a seizure in their lifetime. And, one in 100 people will be diagnosed with epilepsy. To learn more, visit www.epilepsy.com.